Mulled Cranberry Cider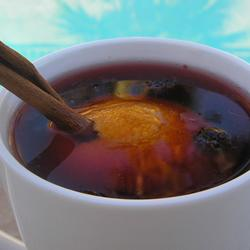 Cranberry juice is simmered in a slow cooker with orange zest, cloves, dried cranberries, honey and cinnamon.
Categories:
Ingredients
2 quarts cranberry juice
2 oranges, zested
14 whole cloves
1 1/2 cups dried cranberries
1 teaspoon vanilla extract
1 1/3 cups honey
2 cinnamon sticks
Directions
1.Pour cranberry juice into a slow cooker; set on high. To the juice add the zest from the oranges, cloves, cranberries, vanilla extract, honey and cinnamon sticks. Heat, stirring occasionally, until hot and steamy, about 20 minutes.
Nutritional Information
Servings Per Recipe: 16 ,Amount Per Serving :,Calories: 193 ,Total Fat:0.007 oz ,Cholesterol:0 grain ,Sodium:0.003 grain ,Total Carbs:1.79 oz ,Dietary Fiber:0.042 oz ,Protein:0.007 oz ,