Pecan Salmon Casserole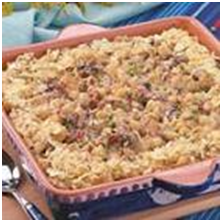 Peas, pecans and pimientos complement the salmon in this potluck-perfect dish that's topped with crushed potato chips that give it added crunch.
Categories:
Ingredients
1 (16 ounce) package small shell pasta
2 medium onions, finely chopped
1/2 pound sliced fresh mushrooms
1/4 cup butter, cubed
2 (10.75 ounce) cans condensed cream
of mushroom soup, undiluted
1 1/2 cups milk
2 teaspoons Worcestershire sauce
1 teaspoon salt
1/2 teaspoon pepper
2 (14.75 ounce) cans salmon, drained,
bones and skin removed
2 cups frozen peas
1 cup chopped pecans, toasted
1 (2 ounce) jar diced pimientos, drained
1/2 cup crushed potato chips
Directions
1.Cook pasta according to package directions. Meanwhile, in a large skillet, saute the onions and mushrooms in butter until tender. Stir in the soup, milk, Worcestershire sauce, salt and pepper until blended; bring to a boil. Remove from the heat.
2.Drain pasta. Add the pasta, salmon, peas, pecans and pimientos to the skillet. Transfer to a greased shallow 3-qt. baking dish. Cover and bake at 350 degrees F for 30-35 minutes or until heated through. Sprinkle with potato chips.
Nutritional Information
N/A:,